Silver Peaks Outfitters Colorado Trophy Mule Deer Hunts · Cortez, CO
San Juan Mountains GMU 70, 711
True Trophy Mule Deer Hunts!
8,000 Acres of Private Land
Big Game Wintering Grounds Attracts Huge Mule Deer Bucks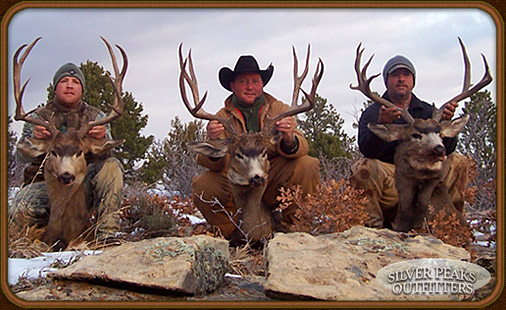 Silver Peaks Outfitters: Trophy Mule Deer Hunting Camp#6
This PRIVATE 8,000 Acres includes the Annual Wintering Grounds that TROPHY COLORADO MULE DEER are naturally drawn to!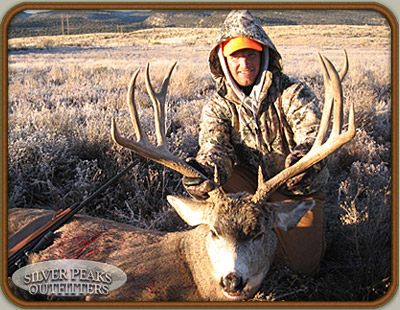 THIS RANCH CAN HAVE SOME TRUE WALL HANGER TROPHY MULE DEER.
The heart of this property features Disappointment Creek winding back & forth for miles and miles among the Cottonwood trees. The creek bottom itself is 1/4 to 1/2 mile wide and filled with trees, willows, and lots of brush... making plenty of hiding spots for the smartest and biggest trophy Mule Deer Bucks!!
There are several other drainages that also join into the main creek. On either side of the creek and drainages is plenty of big game feed: pasture, alfalfa, grass and several ponds.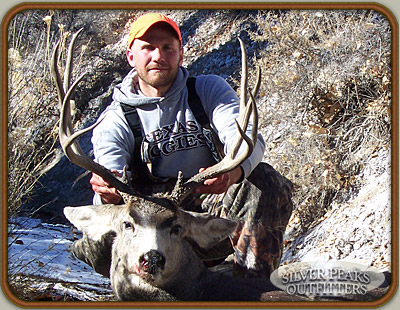 All this big game feed and cover attracts the really big Colorado Muleys for miles... especially right during our rifle hunting seasons, when most of the Mule Deer are migrating down off the mountain to spend their winter months RIGHT HERE.
You'll get the use of a new hunting cabin which fits about 4 hunters comfortably. It's a great place to spend a morning or evening waiting for those Mule Deer Bucks to appear or to do good old fashioned organized Deer drives to push those wily Trophy Bucks out of their favorite hiding spots!!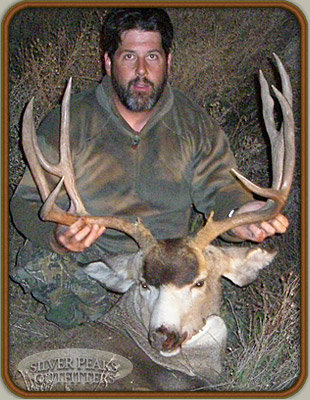 This hunt would be a great addition to our Colorado big game hunt at Camp #5, "The Ponderosa," especially for the combined Deer/Elk rifle seasons. Combining Camp#5 and Camp#6 Hunts provides superb opportunities at taking BOTH your trophy Colorado Bull Elk AND your trophy Colorado Mule Deer!